10 years UAE Golden Visa or Investor Visa in Dubai
Helping Business Owners and Property Investors.
Professional & Expert Advisor
Get start with
intellectca Audit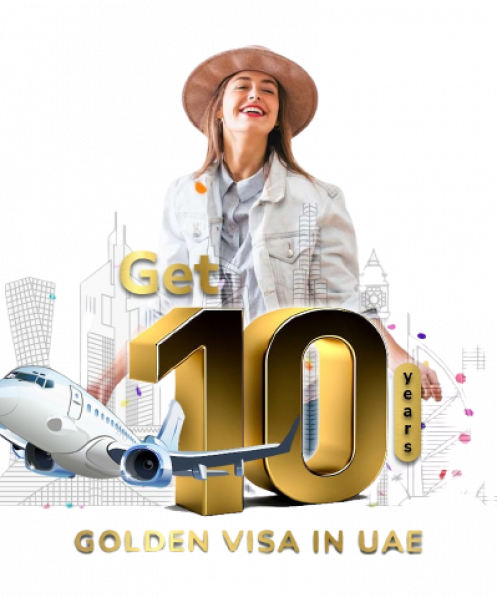 The United Arab Emirates (UAE) recently decided to issue a 10-year golden visa to professionals that will include engineers, physicians, Ph.Ds. who are from UAE accredited universities who have scored Grade Point Average or GPA of 3.8 and above. The motive behind issuing this visa is to retain 'talented people and great minds' in the country.
The golden visa was introduced in 2019 as a long-term residency program by Sheikh Mohammed bin Rashid, Prime Minister and Ruler of Dubai. After its launch, more than 400 investors, businessmen and some of their family members have been granted the visa. We're delighted to have made life easier for hundreds of consumers by providing custom-made solutions in the quickest period feasible.
Reasons For Announcing The UAE Golden Visa
The golden visa was implemented in order to promote the UAE as a location for commercial investment and to promote regional economic growth. The visa was established to honor long-term residents and their contributions to the advancement of their nation.
By providing them with a long-term visa that is valid for ten years and can be renewed, the golden visa is a way to acknowledge and thank them for their commitment.
Long-Term Residency in the UAE (10 Years)
10 years renewable residence
No sponsor or employer required
No maximum number of support service laborers
Duration of stay outside the UAE does not nullify the Golden Residency
Valuable Investment and Ease of Travel
Medical and Emirated ID valid for 10 years
UAE Golden Visa holders can get a Dubai driving licence without classes
Entry Visa valid for 6 months with multiple entries to proceed with residence issuance
Can Sponsor your parents and dependents
In the event of the death of the original holder of the Golden Residence, family members can stay in the UAE till the end of their residence permit
Wife can sponsor to husband
Sponsor on Advisor & Director under your visa
Special discounts on loans, cars, and banking services.
100% Ownership of business in UAE's mainland
Live, Work and Study in the UAE
What is the UAE Golden Visa and who is eligible to apply?
The UAE introduced a new system for long-term residency visas in 2019. Foreigners can now live, work, and study in the UAE without the need for a national sponsor, and they can own 100% of their businesses on the UAE's mainland. These visas will be issued for a period of 5 or 10 years and will be automatically renewed.
On the provision that each partner pays AED 10 million, the visa might be extended to include business partners. The spouse and children, as well as one executive director and one advisor, are eligible for the long-term visa.
Golden visas are granted in accordance with Cabinet Resolution No. 56 of 2018 on the Organization of Residence Permits for Investors, Entrepreneurs, and Professional Talent regulates granting golden visas to:
Golden Residence Beneficiaries
Investors & Frontline Heroes
Scientists & Professionals
Outstanding Students & Graduates
This visa, also called the Dubai partner visa is designed for foreign people who desire to start or invest in a business in Dubai. They can also live, work, and sponsor family members in the UAE. The visa has a three-year validity period.
Do you want to apply for an investor visa in Dubai? Individuals who buy shares in an existing company worth a minimum of AED 72,000 or who form a firm with a capital investment worth the same amount are only eligible for this visa, according to Dubai investor visa guidelines.
Learn about the documentation requirements, application fees, and more for the 3-year, 5-year, and 10-year Dubai Investor Visas. Get in touch with us right away!
Entrepreneur: A foreigner who owns a technical or future nature economic project based on risk and innovation.
Those who have an existing project with a minimum capital of AED 500,000 or who have received clearance from a recognized business incubator in the country fall into this group.
The entrepreneur is granted a six-month multi-entry visa that can be renewed for another six months. The spouse and children, a partner, and three executives are all included in the long-term visa.
THIRD: PERSONS WITH SPECIALISED TALENTS
Specialists and researchers in the disciplines of science and knowledge, such as doctors, specialists, scientists, and inventors, as well as creative individuals in the fields of culture and art, are included. The spouse and children are also eligible for the visa benefit. A legitimate job contract in a specialized field of priority in the UAE is required for all categories.
There is some conditions for every category, to know more about conditions and details on specific categories Contact Us.
FOURTH: OUTSTANDING STUDENTS
High School Student: Outstanding high school students with a minimum grade of 95 percent in public and private secondary schools are granted a residency permit for a term of five years without a guarantor.
If the outstanding student's parents and his father's dependent siblings are in the nation, they are granted a residence permit for the same period.
University Student: A university student with a distinction GPA of at least 3.75 upon graduation is permitted residence for a term of ten years without a guarantor, both within and outside the country.
If the university student's parents and dependent siblings live in the country, they are awarded a residence permit for the same duration.
WANT TO KNOW WHAT WE CAN OFFER YOU ?
Audit & Assurance Services
Accounting & CFO Services
Are you looking for an audit firm in Dubai, UAE?
Intellect Chartered Accountants is one of the best accounting and audit firms in Dubai, UAE. Our services include Audit, Accounting & Bookkeeping, VAT, Business services, Free Zone Audits, and more. We have built up our reputation through our work quality and excellent service. We work hard for our clients to meet their requirements. Our dedication is to grow & succeed your business. "Assurance You Can Trust".